Drone's have become common place in society and are no longer solely used by hobbyists. There are many types of businesses that use drones on a regular business to conduct their operations. They do this to save time and money and in many cases to perform certain operations more safely. However, they often do not consider drone insurance when they are purchasing their business liability insurance.
If you're just interested in getting drone insurance quotes, get started now with a few questions.
Businesses that use drones in their operations have likely invested thousands of dollars into their equipment and training. In addition to the money invested to start using drones, these businesses also depend on their drones now as a revenue generating component of their operation.
Insuring your drone, and the additional exposures you take on by using them, has not always been straightforward.
What kinds of businesses are using drones?
The types of businesses that are actively using drones are many. They include:
Photographers
Videographers
Real estate agents
Architects
Engineers
Surveyors
Contractors
Advertising agencies
Home inspectors
Appraisers
In our experience, the majority of businesses start using drones without considering the additional exposures they are taking on. They likely already have General Liability insurance that covers them against claims for Bodily Injury, Property Damage and Personal & Advertising Injury so they may think that they are adequately covered.
The problem is that the majority of General Liability policies have a standard Aircraft Liability and/or Unmanned Aircraft Vehicle (UAV) Liability exclusion.
If you're thinking about what kinds of things can go wrong, here are some examples of Drone crashes from Baum Hedlund Aristei Goldman Law
January 2015 – Drone crash lands on White House lawn. Operator Shawn Usman borrowed a quadcopter drone from a friend and was flying it from a window in his downtown Washington D.C. apartment at around 3:00 a.m. when he says it ascended to an altitude of 100 feet, then flew in a westerly direction. Usman tried to regain control, but couldn't. The quadcopter drone crashed on White House grounds. No one was injured, but the Secret Service was forced to put the White House on lockdown as a precaution. The U.S. attorney didn't charge Usman, finding that the drone was not under his control when it crashed.
September 2015 – Drone crashes within feet of German Chancellor Angela Merkel. A member of the German 'Pirate Party' piloted a drone that crashed only a few feet away from Angela Merkel while she was delivering a speech. The drone pilot was protesting government surveillance. No one was injured, but the incident did bring up questions about how drones can impact safety and security.
December 2014 – Drone crashes into a customer at a New York City restaurant. A New York City restaurant was using a drone to fly mistletoe over customers when it crashed into their photographer. The fast moving, sharp blades sliced off a piece of her nose and cut her chin.
April 2014 – Australian triathlete sustains injuries after drone crash. Raija Ogden, an Australian triathlete, was injured when a drone crashed into her while she was competing in the Geraldton Endure Batavia triathlon in Western Australia. A videographer was using the drone to film footage of the race when he lost control of the aircraft. He claims that a spectator in the crowd stole control of the drone, causing it to crash.
August 2013 – Drone crashes into grandstand at Virginia's Great Bull Run. At least four spectators at the Virginia Motorsports Park for the Great Bull Run were injured when a drone crashed into the grandstand. The aerial photography drone was hovering above the stands when it suddenly fell from the sky into the crowd.
We also found a story of a young baby who suffered a collision with a drone.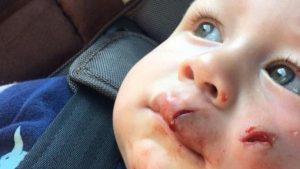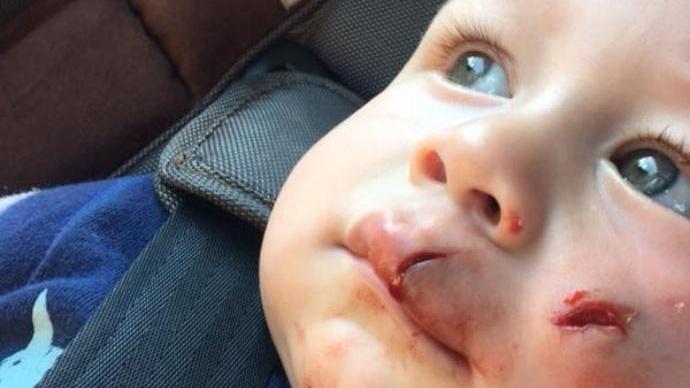 You can see that it isn't difficult to imagine how quickly things can go wrong when flying drones for your business.
Imagine the wedding photography or videographer that is flying their drone over the wedding party and they lose control. Or the real estate agent that is getting drone footage of a commercial building and loses control of the drone over traffic.
Drone Insurance
Our insurance programs for drones help to address these exposures.
We can cover physical damage to the drone not just in flight but also during transportation and preparation. Our program offers limits of $5,000, $10,000, $25,000 and $50,000.
When comparing drone insurance programs you have to look beyond just coverage the actual aircraft. This is what most drone manufacturers offer when they sell you additional protection. However, they do not address the liability coverage you need for operating your drone.
With drone liability coverage you can protect your business against claims for Bodily Injury and Property Damage. We can also offer Personal & Advertising Injury coverage for some types of businesses. Personal Injury address claims for things like invasion of privacy.
The one thing you cannot cover under our drone insurance program are criminal acts, which are also excluded on standard policies. So, if you are planning to use your drone for an illegal activity you won't be able to have insurance coverage.
If you would like to get more information and drone insurance quotes for your business please fill out the above so one of our drone insurance specialists can discuss with you.